Executive Coaching
For over 20 years, I  have been teaching successful entrepreneurs, educators, corporate leaders, and people from all walks of life how to create the life they desire.  From CEO's to Managers, From Athletes to Entrepreneurs I have a unique ability to create positive lasting change quickly.  I teach a simple process of overcoming limiting beliefs and behaviors to achiever greater success, efficient performance, better relationships and ultimately the peace, purpose and happiness we all seek both at work and in our personal lives too!
Help a leader become
self–aware
Intuitive self-awareness among leaders has a direct impact on organizational effectiveness and profitability.
Successful people make endless different decisions a day.  We create a space to do that efficiently.
Each leader is different. But they themselves are not aware of the potential.
Build more productive relationships.

As leaders move up the corporate ladder, the work becomes less about activities. It becomes more about people management.
"Tracy brings a refreshing and practical approach for a successful career and happy personal life." – Peter Cancro, Founder of Jersey Mikes

"Tracy shares her simple strategies for living your best life and finding your happy self." – Vanessa LeFebvre, President of Lord and Taylor

"Tracy Fox is the perfect choice for assisting corporate leaders with life skills coaching and goal setting. Tracy has a unique and proven ability to identify opportunities and get straight to issues critical to personal and business success." – Don Griffin, President of West LA Music
"Powerful and impactful are two words that immediately come to mind after experiencing Tracy Fox's presentation. Throughout the entire session the audience was engaged and transformed by the practical, useful and immediately applicable concepts that Tracy shared. Within a day of being a participant in her seminar I made some very positive decisions regarding my business and personal life that have been truly paying off. I reached out to her for some one on one coaching because I was so impressed with her insights. She is really very good at one-on-one as well. If you have opportunity to see Tracy Fox present and/or to engage her as a business/life coach, I would highly recommend her." – Joy Baldridge, President Baldridge Seminars International
"As an institutional financial service executive I have seen Tracy work with professionals to identify areas of improvement (business and personal), construct a plan to take immediate one week steps for progress and then review that progress and implement a new revised short term plan. Tracy is a coach who gets results that change the quality of people's lives by helping them address and solve challenges with a results based approach that is refreshing and effective. She is perfect for stressful trading and research professionals struggling to have rewarding work relationships, manage work performance and have a balanced home life." – Steve Messina, President of Institutional Equity Trading and Research, MKM Partners, LLC
"Sessions with Tracy Fox feature a utilization of time so efficient you find yourself wondering if you've gone through multiple sessions in one. Tracy is diligent, direct and pressing, all-the-while professional in her approach to extract from you the most deep-seated stagnations you either never knew were there or simply could not remove yourself. I give her an A+ when it comes to life coaching; be ready for a feeling of productive pain that will inspire you to improve in everything you do." – Mike Evans, CEO, FullCourtPeace.Org
I was referred to Tracy at a difficult time in my job. She asked pointed questions and got straight to the root of my issues. She gave me the tools to navigate my way out and now with a new job I am so much happier! Challenges are still and will always be there but if my strategies are employed I know there will be a better ending. Thanks Tracy for your help and I am sure we will talk again! –Brian Gaffney, Golf Professional
"When it comes to personal coaching, Tracy Fox is the best. She is extremely dedicated and efficient in the way she delivers her coaching practice. Tracy is practical, serious, funny, smart, and tells you the way it is. All you have to do is set up the appointment, listen to what she tells you and follow through." – Brooke Fairman, Director of Roger Williams Providence Zoo
Tracy has also written a best selling book on Happy Work Life
Happy Work-Life: Learn To Thrive 9 To 5 and Beyond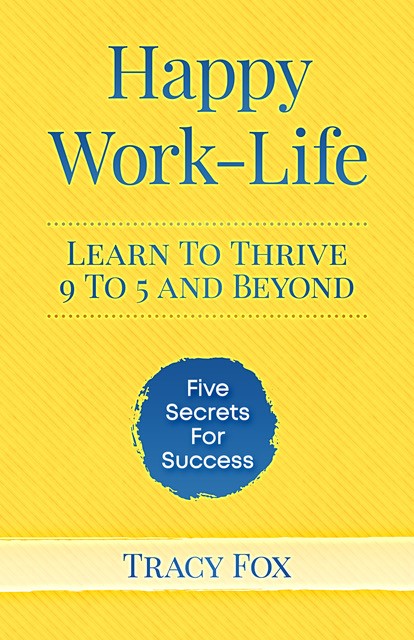 5 STAR reviews on AMAZON
Yes, It is true. You can have an amazing career and a happy personal life too. In this book you will discover the 5 secrets for success to thrive nine to five and beyond. 1) Live to your purpose and passion. 2) Learn excellent time management. 3) Invest in great relationships. 4) Model what happy, successful people already do. 5) Insist on serenity so you can unplug recharge and have fun
.
Order on Amazon